www.fencingcampsandcomps.co.uk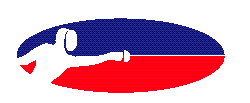 Bill Hoskyns (b 1931)
At the 1958 World Epee Championships Bill Hoskyns reached the final after a quadruple barrage. He then faced two Russians and five Italians, among them Eduardo Mangiarotti, the most successful Olympic fencer of all time. But Mangiarotti was given fights by his team-mates and lost his edge, losing to the Russians. Hoskyns fenced brilliantly to beat everyone except Mangiarotti and take the title.
He fenced in the Olympics a record six times from 1956 to 1976, winning an epee team silver medal in 1960 and an epee individual silver medal in 1964 after barraging for the gold.

Bill Hoskyns burst on to the international scene at the 1955 World Championships, where he played a major part in Britain's foil team bronze medal, beating all four members of the French team. As a foilist, he won Bologna (1959), was runner-up in the Duval and in Ghent (1960), came third in the Paris Martini (1959) and Warsaw (1960). Won the Paris Martini in 1963 and came 7th at the Tokyo Olympics.
But it was at epee that he made the strongest impression. As well as becoming World Epee Champion in 1958, over the next seven years he won tournaments in Luxemburg (1958), Paris (1958 & 1963), and collected individual and team silver medals at the 1965 World Championships to establish himself as the world's leading epeeist.
He won Commonwealth individual gold medals at epee (1958, 1966 & 1970) and sabre (1958), but had to be content with silver at foil (1966). Winner of the British Epee Championship four times (1956-8 &1967), he also won the Foil Championships three times (1959, 1964 &1970) and the Sabre Championship once (1966) to become only the second man (after Edgar Seligman) to win all three titles. He finished his international career by winning the Duren epee tournament in 1973 and 1974 and coming second in Oslo in 1978. And at the age of 66, he won a bronze medal at the Millennium World Veterans Championship in Hungary.
Bill Hoskyns, although not quick on his feet, had extraordinary timing and could put his opponents under continuous pressure so as to induce them to attack at the moment of his choosing, when he displayed an uncanny ability to pick up his opponent's blade at the very last moment. A skiing accident in which he broke a leg did wonders for his parry-riposte. His nonchalantly elegant style gave him a gentleman-amateur image that was much admired. One American opponent said simply "Suave - so suave, it's painful."
Malcolm Fare